Introducing the All-New 2020 C8 Corvette Stingray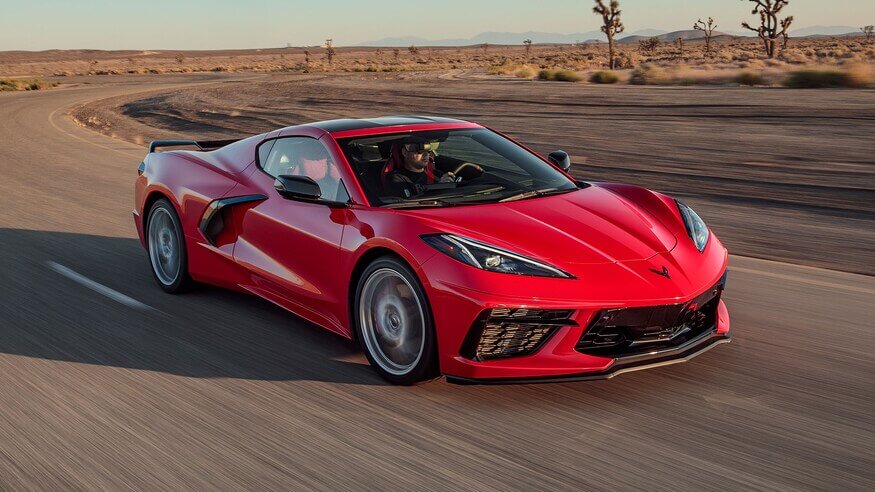 Named MotorTrend 2020 car of the year, the completely redesigned C8 Corvette Stingray is here and it's a beast. Here's everything you need to know about this supercar that may be more affordable than you think.
Engine Shift
Perhaps the most important change is the engine's new location behind the passenger seats, making the new Stingray a mid-engine car that brakes quicker and turns more easily than previous 'Vettes. This is the most powerful Stingray ever, with a 6.2-litre V8 that delivers up to 495 horsepower and 470 lb.-ft. of torque that can reach 96 km/h in just 2.9 seconds and a top speed of 312 km/h on a racetrack.
Smooth City Driving
The adjustable modes turn this beast into a laid-back daily driver with a quiet, smooth ride. Don't expect the loud rumble other supercars make when cruising though. This one is decidedly understated when it comes to engine sounds.
Still a Convertible
The C8 is the first Stingray to offer a retractable hardtop, making it the most track-capable convertible in Corvette history. The two-piece hardtop roof can be activated at speeds up to 48 km/h and takes only16 seconds to fold into the trunk thanks to the six electric motors.
Improved Interior
Corvettes have always had a reputation for low-quality and uncomfortable interiors, but the 2020 model has changed that. With premium leather seats, a squared-off steering wheel that increases visibility and is more comfortable to hold and a large infotainment touch screen angled toward the driver, the cabin is a big step up from previous models.
Ample Storage
Moving the engine allowed Chevy to offer more storage. The back trunk is wide and deep enough to hold two full-sized golf bags while the area under the hood can fit a small carry-on suitcase. Not bad for a supercar.
The Future of the C8
The C8 Stingray is just the beginning of Chevrolet's supercar revolution. Expect new, more powerful C8s to be released in the future, including one that may reach up to 800 horsepower and another equipped with a hybrid engine.
Auto Shipping Experts for Canada & the USA
Some cars have to be shipped with more care than others, especially if they're pricier or rarer than your average daily driver. If you have a car like the C8 Stingray, you need the specialized vehicle transport services of TFX International. Call us today for a free quote and see why car enthusiasts across Canada have trusted us for decades.