We Offer Professional Car Shipping Services in Canada and to the US
Whether you are looking to transport just one car or a collection, TFX International can assist you. With a fleet of state-of-the-art tractor-trailers, we can transport your vehicles year-round.
Whether you are shipping a car across Canada or locally, we can provide reliable hauling. We even ship between Canada and the United States. Whether you have a low-riding sports car or a large truck, our trailers are designed to accommodate any car, no matter how it may be customized.
TFX International is pleased to work with a wide range of customers, from individuals to manufacturers. In fact, many major auto manufacturers have hired us for shipping a car across Canada to be used in movies, photoshoots and a wide array of special events. We commonly work with private clients and provide SPECIALIZED VEHICLE TRANSPORT™® for auctions, relocations and vacation purposes. If you've purchased a vehicle out of your area and need it delivered, we can help.
Safe & Damage Free Car Shipping Across Canada & the US
When we say we take special care of your car, we mean it. We offer safe, controlled movement in and out of our trailers and utilize hydraulic tailgate lifts with low angle loading ramps. This results in a minimal amount of stress on your vehicle. Through the use of soft strap tie-downs, we keep your car in place and prevent any damage from occurring. TFX International has been trusted to handle all types of cars, including prototypes, museum vehicles, show cars, race cars and many more. Whether you are shipping your family sedan or exotic vehicle, we have the enclosed trailers and tractors needed for your job.
If you would like to learn more about shipping a car across Canada or if you would like to inquire about car shipping rates, please contact us. We would be glad to answer all of your questions. We encourage you to check out our FAQs to learn more.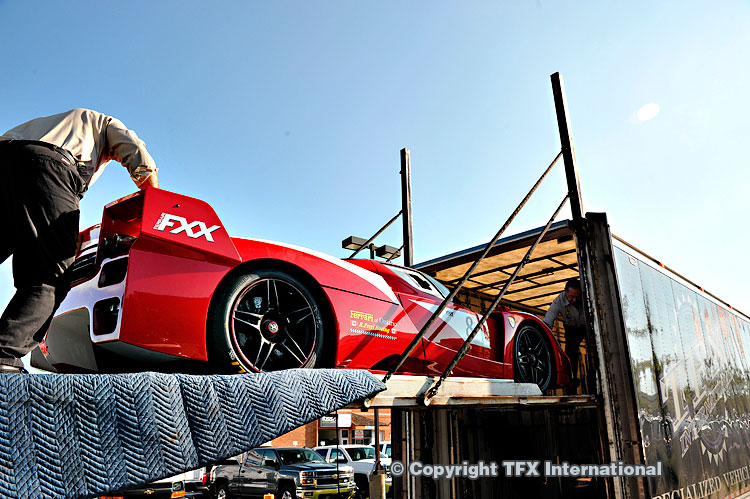 Who uses our services?
Snowbirds (one way or return trip)
Show cars
Vintage vehicles
Photoshoots
Museum vehicles
Exotic/Classic vehicle show
Manufacturers
Dealers
Motorcyclists
Sports teams
Baseball, basketball, soccer, hockey
Prototypes
Test cars
Priceless antiques
Formula race cars
Show cars
Movie vehicles
Ride and drive
Standard family vans and cars