Car Shipping in Toronto & Surrounding Areas
When it comes to car shipping in Toronto, there is only one name to know – TFX International. Based in Etobicoke, we offer specialized vehicle transportation across the Greater Toronto Area, throughout Canada and to the U.S. We have a long history of safely shipping all types of vehicles including prototypes, priceless antiques, exotics and motorcycles.
Car Shipping From Toronto to the United States for Snow Birds
Whether you consider yourself to be a snow bird travelling to the United States to escape the cold winter, or are simply relocating with your family, we are happy to provide car shipping services from Toronto at affordable rates. TFX International is a customs-bonded carrier and we are authorized to transport between Canada and the U.S. We have extensive knowledge of the forms and documentation that will be required. If you choose to fill your vehicle with your belongings, you must provide us with a detailed list of what is included inside the car. At TFX, we can guide you through the customs process to ensure a stress-free trip.
We Also Provide Car Shipping from Toronto to Barrett-Jackson® Auctions
Having been the official carrier for Barrett-Jackson® auctions for many years, we understand that it takes a lot of time and preparation to get your vehicle ready for a major auction. If you are looking for car shipping from Toronto to an auction in Canada or the United States, TFX International has got you covered. We will not only ensure your vehicle is prepared for the climate it is travelling too, but many precautions will be taken to ensure it arrives in pristine condition to its final destination.
If you are ready to arrange vehicle shipping services, contact us today for a free quote online or by phone at 1-888-415-3158.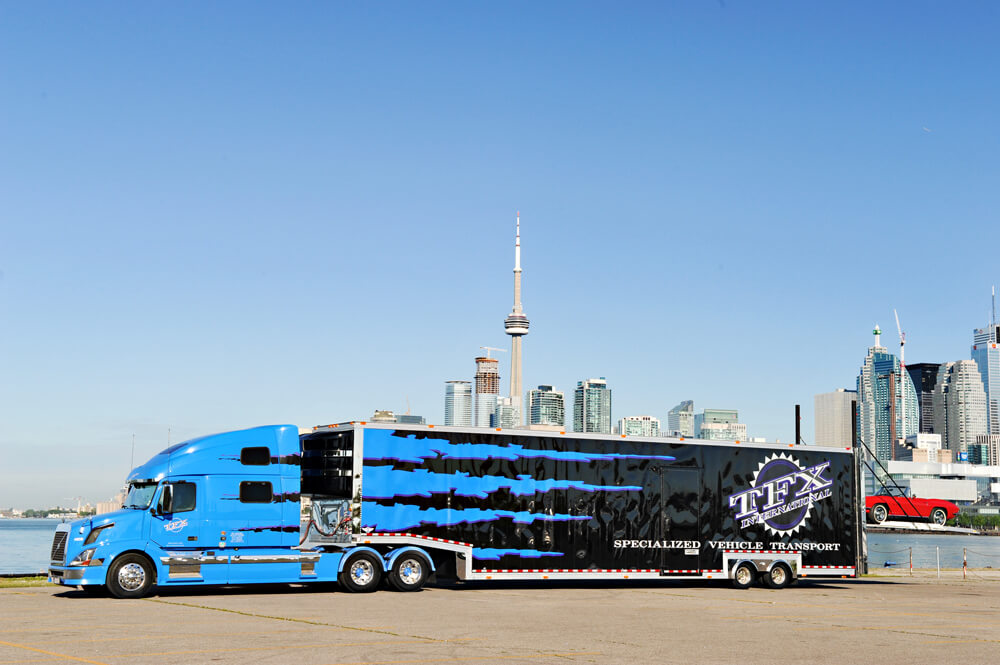 Who uses our services?
Snowbirds (one way or return trip)
Show cars
Vintage vehicles
Photoshoots
Museum vehicles
Exotic/Classic vehicle show
Manufacturers
Dealers
Motorcyclists
Sports teams
Baseball, basketball, soccer, hockey
Prototypes
Test cars
Priceless antiques
Formula race cars
Show cars
Movie vehicles
Ride and drive
Standard family vans and cars