The Car Guy: Wally Horodnyk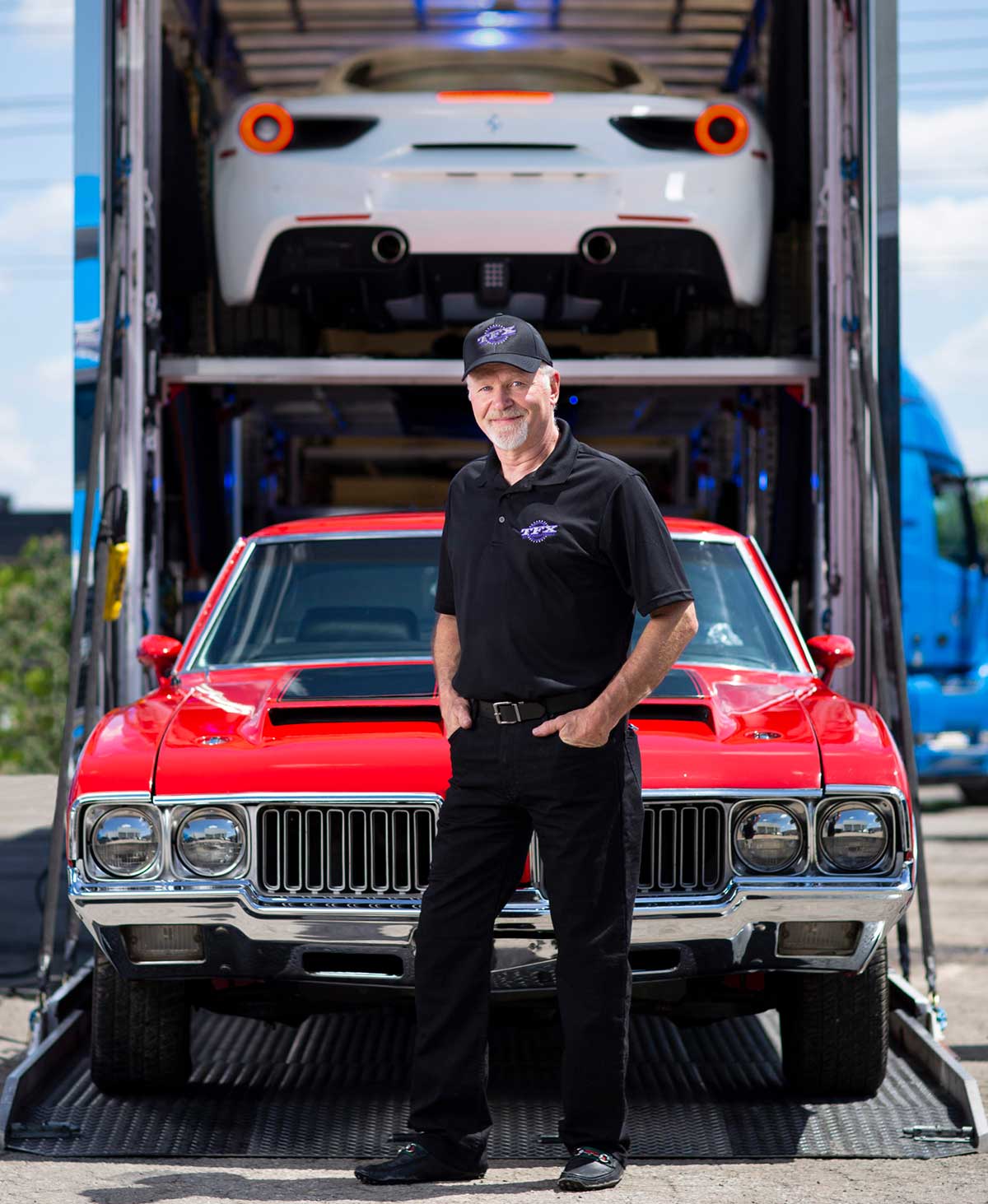 TFX International now moves about 11,000 vehicles per year, says founder Wally Horodnyk. (Photo: Peter Power)
One way to get your hands on a fancy car if you don't have the money to buy it is to be the guy who moves them. Wally Horodnyk, the founder of TFX International, which specializes in hauling luxury autos, says that's one of the reasons he started the business. "I always wanted to be around fancy cars. But I didn't have any money in my early years. I said to myself, 'goodness gracious, what a great way to get the keys to that Bugatti'.".
Now Horodnyk and his company dominate the car-hauling market in Canada, moving about 11,000 vehicles a year for every luxury brand and major collector-car auction houses like Barrett-Jackson, along with private collections. Horodnyk has had the pleasure of moving and caring for some of the world's most unique vehicles, from the Batmobile to $40 million worth of Shelby Cobras..
Since its beginnings in 1987, when Horodnyk discovered there was almost nobody able to move cars, TFX has grown from five to 30 trucks thanks to innovations in car protection alongside an unswerving commitment to customer service. "We're a concierge service," Horodnyk says. "We don't move pig feet. We move cars. Cars are the second most expensive things people buy and they just love them to death. It's their little babies.".
Making sure the cars were protected has been Horodnyk's obsession since Day 1. As a former home mover his first load of one car was wrapped up tight in moving blankets to ensure it wouldn't get damaged on the open trailer ride from Detroit. And while that Honda turned out to be destined for a crash test, the objective of providing the best protection possible inspired Horodnyk to many innovations in vehicle hauling..
"We've invented so many things on our trailers that are now standard because our builder likes it so much" he says. "They sell it to everybody. We didn't patent it.".
Level loading is key for low-slung luxury and racecars, so Horodnyk developed a box that lifts the car into the trailer without need for ramps. He also developed a "Ferrari floor" for trailers with a drop. Instead of driving it down a slope, the level floor lowers by 18 inches once the car is loaded in, avoiding scratching or damaging the paint or carbon fiber on a million dollar auto..
In a business where a chin rub on a Ferrari can cost $30,000 and a new clutch is about $20,000, being able to drive a car flat into what's essentially a parking spot reduces risk and increases customer satisfaction..
"We have to make sure everything is done right," Horodnyk says. That includes steering wheel covers, floor mats, custom-designed seat covers with furniture blankets sewn in, door pads and plastic covers on the outside to protect against other cars leaking. "It's more expensive for us. The customer service is going through the roof here," he adds..
As Canada's dominant player in car hauling, Horodnyk says everyone knows what's in the TFX trailers they pass on the road. But he's not worried about security. After being robbed at home and on the road, in 2000 he introduced remotely controlled locking and geofencing security for his trucks. "I swore that would never happen to me again," he says, and it doesn't..
He's also very particular about hiring. Possibly one in 10 applicants has what it takes to be a TFX driver, Horodnyk notes. They've got to have at least five years of driving experience including in the mountains, they have to love cars and they have to be outgoing. As well, "you cannot work here unless you take a test on a 13-speed manual," he says. Once a driver is hired there's usually at least three months of training, often with Horodnyk riding shotgun..
TFX came about because of Horodnyk's ability to see the market opportunity in car hauling at a time when nobody else was doing it, but the company's overwhelming success is the result of the way his creativity combined with his drive to ensure the best for his customers. "We have one focus. A client comes in, you drop everything else.".
He credits the company's success to that fact that his staff loves what they do. "Everybody can see the customer service you have to offer. You just want to take care of the client. That's all you want to do.".
His family runs the company now, but Horodnyk is always around "welding and doing all kinds of things. I'm just a little cog in the bigger wheel.".
"I've got 30 trucks. Everybody knows me. I might be really small but when you think about car transport, you think about TFX," he says. "We think on our feet. That's why I think our customers love us.".
Source: Today's Trucking