The Panther: How the De Tomaso Pantera Made Its Mark
Everyone has their favourite when it comes to classic cars. Personal preference plays a big role, with memories, experiences, and aesthetics combining for a distinct opinion. Regardless of your personal stance, there is no denying the industry impact of certain historic vehicles. Beyond pop culture trends and feature films, certain rides push the boundaries of design and technology in ways that drivers and riders can feel. It is not always obvious at the time, but special cars separate themselves from the pack as time goes on. They just don't make them like they used to, but luckily we can still make many of these old beauties run.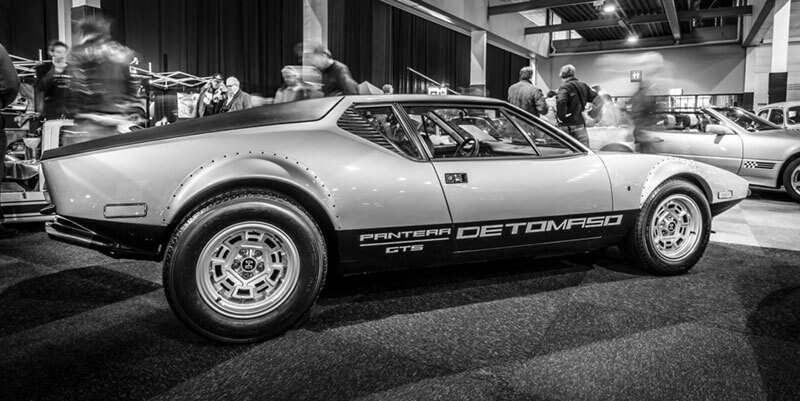 The 1970s gave us no shortage of beautiful vehicles and advancements. The De Tomaso Pantera is one of the achievements from the decade that we can still appreciate today. Here are just a few of the reasons the Pantera has been called "misunderstood and undervalued" by Jay Leno and other prominent classic car lovers:
Foreign and Local – North Americans love to support local, but few would dare claim that Italian design is not among the world's best. The Pantera combined the best of both, enlisting American-born Tom Tjaarda to design the vehicle for Ghia, an Italian design firm. Two versions of the vehicle were created, with slight alterations for both markets, playing to design sensibilities and functions. The main differences were the bigger tall lamps and corner marker lamps on American models.
Engineering – This was the first vehicle that used De Tomaso's monocoque designs. Basically, the exterior supports the structure of the vehicle rather than relying on the heavy steel skeletons of previous models.
Interior Troubles – While the vehicle remains significant, it also taught designers a lot of important lessons when it came to interiors. Awkwardly slanted backseats were noted during its debut at the New York Motor Show in 1970, and changes were made accordingly. Other kinks were also changed for improved comfort and functionality, but a poorly placed cigarette lighter made its way through to the final design and posed some risks for drivers who chose to rest their arm while on the road.
Performance – Driving the Pantera was a simplified and joyful experience. With a Ford V8 engine under the hood, and upwards of 380 horsepower, excessive gear shifts at lower speeds were eliminated. The result was a perfect and less demanding ride for high-traffic urban roads.
If you own a De Tomaso Pantera or other classic sports car, TFX International can provide dedicated vehicle transport in Canada. We specialize in classic cars and take into account the specific considerations and handling for these rare, beautiful, and valuable rides. Let us handle your vehicle shipping across North America for classic car shows, relocations, or buying and selling your vehicles.
TFX International has more than 25 years of experience shipping cars in Canada. Our team is knowledgeable and reliable, and can provide answers to any of your questions. Ease your concerns about auto transport to the USA by working with our careful and practiced auto shipping staff and drivers. Get your classic car where it needs to be in the same pristine condition with our car shipping services in Canada.
Contact TFX International to find out more about vehicle transport for classic cars and other vehicle types. Tell us more about your car and schedule to get a free quote for your vehicle shipment. You can also call us at 888-415-3158 today.